Everything You Need to Know About Chronic Care Management Programs
You've heard about chronic care management programs. But you're uncertain what using one would mean for your clinic. Undoubtedly implementing a chronic care management (CCM) program will take time, staff, and money to name a few things—but what are the hidden challenges?
And what are the benefits of using an outsourced chronic care management program versus simply doing it all yourself?
Below we will delve into all aspects of CCM programs including what they are, their benefits and challenges, and a whole lot more.
Yes, it's the industry's most up-to-date guide—start finding all the answers to your questions, now!
What is Chronic Care Management (CCM)?
Chronic care management (CCM) focuses on serving individuals on Medicare with two or more chronic conditions. CCM is a preventative service, helping your eligible Medicare patients take a proactive approach to their health and wellness, while keeping them connected to their provider.
According to recent statistics, 80% of chronic diseases could be eliminated by preventative measures. Also, two-thirds of all deaths in America are attributable to one of five chronic disorders: cancer, chronic obstructive pulmonary disease, diabetes, heart disease, and stroke.
A good CCM program can aid your clinic in facilitating earlier interventions among patients, encouraging compliance with medication regimens, supporting lifestyle improvements, and even reducing the number of hospitalizations, complications, and unnecessary ER visits that your patients may face.
What conditions qualify for chronic care management?
A CCM program can provide help for patients who face at least two chronic conditions which are expected to last at least 12 months. Patients must consent to being in the program and each patient will require a care plan. Encounters must last at least 20 minutes each month and can go up to 60 minutes.
Should a patient's conditions meet the proper criteria set forth by Medicare, they are eligible for a chronic care management program.
The population faces a slew of chronic conditions. Your clinic is likely familiar with many of them, but here is a list of some of the more common ones. Here are some of the conditions that qualify for chronic care management:
Alzheimer's disease
Arthritis
Asthma
Autism
Blindness
Cancer
Cardiovascular disease
Deafness or hearing impairment
Diabetes
Endometriosis
Epilepsy
Fibromyalgia
Heart disease
High blood pressure
HIV / AIDS
Hypertension
Migraines
Obesity
Psoriasis
Sickle Cell Anemia
Sleep apnea
Thyroid disease
Tuberculosis
How does chronic care management work?
A CCM program helps to improve patient experiences and outcomes while boosting both your clinical value and its revenue. Whether in-house or outsourced, a CCM program should be staffed by qualified, licensed clinicians who conduct the monthly patient encounters. While the path to success varies by clinic, here are four common steps to take toward establishing a CCM program:
Identify patients who qualify and make the connection.
Enroll interested patients.
Provide monthly phone calls for each enrollee from a dedicated representative who understands their current medical challenges.
Integrate patient assessments from each call directly into your EMR system offering providers a more constructive conversation with their patients during office visits.
What do chronic care management services include?
CCM services may vary slightly by program but in general, all programs should offer licensed, clinical professionals who can coach patients with self-management for their chronic conditions such as diabetes and COPD. CCM services do so through a monthly phone call of at least 20 minutes with each patient to discuss not only overall health but also potential lifestyle changes that may benefit a patient's longevity.
Why is chronic care management important?
You already know that your patients will schedule an appointment with you when a health issue arises. But running your clinic this way removes your patient's ability to take control of their own health education.
Consider a patient you have who already has asthma and obesity. He or she visits your clinic annually for a physical and wants to steer clear of additional chronic conditions like heart disease. But year after year, their health has only gotten worse. Eventually it gets to a point where you feel your patient isn't listening to your medical advice. You wish you could check up with them on a regular basis to make sure they are following your recommendations for living a healthier lifestyle, but you simply don't have time, and this patient gets lost in the shuffle amongst other annual patients.
A CCM program offers a "different" way to do things at your clinic. Enrolled in a CCM program, this patient would receive a monthly call to discuss their current health and the looming possibility of additional chronic conditions. They could be monitored to ensure they are taking their medications and adhering to your treatment plans, and they could be educated on the importance of nutrition as a way to improve clinical outcomes.
A CCM program offers your patients more control over their own health because they feel educated and cared for.
What are chronic care management requirements?
The following conditions must be met to qualify a patient for your CCM program:
Medicare patients who face at least two chronic conditions
Conditions are expected to last at least 12 months
Patients have consented to being in the program
Patient receives an individualized care plan
Clinical time spent with enrolled patients must be at least 20 minutes and go up to 60 minutes
How does chronic care management help patient outcomes?
CCM services can help change the way you interact with and care for your patients—for the better. Clinics that implement chronic care management services experience improved patient engagement which leads to better clinical results and an increased revenue stream. CCM helps healthcare teams meet the patient where they are, helping them invest in their own healthcare, and helping to knock down any barriers to their health goals.
Benefits of chronic care management programs
There are various benefits—for both patients and providers— to implementing a chronic care management program into your practice.
Benefits of chronic care management for patients
Patients enrolled in a CCM program report stronger connections with their healthcare team. Not only will a CCM program improve patient engagement and compliance, but it also gives your team additional information behind each enrolled patient thus allowing you to see the big picture behind each patient's current medical situation.
Additionally, CCM program patients are more likely to:
Engage with the clinic and providers
Have a higher rate of medication compliance
Experience fewer hospitalizations
Feel safe, resulting in a closer relationship with their doctor and clinic
Benefits of chronic care management for providers
Today's healthcare facilities already have a lot on their plate. And it's hard to imagine giving your staff even more work to do—even if it benefits your patients. The good news is that a chronic care management service doesn't need to be difficult or stressful to implement. And when done correctly, a good CCM program not only offers your providers valuable insights on patients, but it also creates a more streamlined approach to patient care.
A successful CCM program helps providers:
Improve response time when issues arise through frequent contact with the patient, allowing your team to identify new developments in a patient's health and pinpoint higher-risk patients.
Pre-empt conditions that often result in acute care circumstances.
Connect to your patients, creating a more trusted relationship through monthly conversations empathizing and better understanding a patient's unique healthcare challenges.
Prevent acute situations by gathering more detailed information from your patients to discover health deficiencies by establishing a trusted relationship during monthly calls, allowing a patient to express concerns and ideas on their care.
Increase revenue through CMS reimbursements, which leads to more budget for additional resources or staff to improve patient care.
Challenges of chronic care management for patients
We painted a rosy picture of the benefits of CCM programs for your patients. But there are challenges that can be associated with implementing one. It's up to you to decide if the following challenges your patients may face are worthwhile to overcome.
Some CCM program patients will face the following obstacles:
Educational challenges. Why should they enroll and why must they give you their consent to be in the program?
Financial obstacles. It's estimated that about 70% of a clinic's patients will have a co-pay of $5-15 per phone call.
Advanced needs. Some patients may have medical needs that go beyond the scope of your CCM.
Challenges of chronic care management for providers
As with the challenges of a CCM program that may arise for patients, physicians at your clinic may also face obstacles. The good news is that because these issues are often similar across practices, a good CCM program partner is familiar with them and may offer some reprieve.
Some CCM program physicians will face the following obstacles:
Identifying qualified patients. Most clinics have hundreds if not thousands of patients to review for eligibility for a CCM program.
Program management. Undoubtedly your staff will have turnover, sick days, and even vacation time. Staying on top of a CCM program requires a high level of communication among staff at all times.
Billing and reporting. From keeping track of calls made to patients and the corresponding notes to being reimbursed, there's a learning curve associated with adding a new program of this magnitude.
Growing a CCM program: Adding remote patient monitoring and behavioral health integration
Up until recently, there was only one "type" of CCM program. However, as COVID-19 became more prevalent, concern grew for older patients with existing chronic conditions. Not only were these patients at higher risk for contracting COVID-19, making travel to their physician's office difficult, but they also faced long stretches with little to no face-to-face interaction while in isolation from loved ones. Therefore, Remote Patient Monitoring (RPM) and Behavioral Health Integration (BHI) are now services that can be "add-ons" to an existing CCM program though they have slightly varied requirements.
Remote Patient Monitoring: Blood pressure monitors, blood glucose meters, and weight scales are all examples of common remote monitoring devices. Again, requiring consent to enroll, a patient also often pays a monthly fee for the monitoring device. A clinician must speak to patients for at least 20 minutes, up to 60. A practice can provide their own devices (self-managed) or they can contract with a company that provides devices for patients (full service).
Behavioral Health Integration: In addition to the requirements set forth by a general CCM program, a BHI adds the condition for a monthly mental health assessment.
What is a Chronic Care Model?
Occasionally "CCM" is mistaken for Chronic Care Model rather than Chronic Care Management. As it happens, there is a difference. While Chronic Care Management refers to everything we've discussed so far, the Chronic Care Model is described as a framework which helps organizations provide care for patients that face chronic disease.
Why is the Chronic Care Model important?
In America, chronic disease is the leading cause of death and disability among patients, and it is the leading driver of the nation's annual healthcare costs. Chronic care management has deeply seeded roots in the chronic care model and helps providers come up with new solutions to battle through barriers, improve the outcomes of their patients, and lower the cost of healthcare, making it more accessible to Medicare patients.
How to bill for chronic care management?
Clinics may avoid a CCM program because it seems too difficult to bill. In reality, a CCM program is easy to submit for reimbursement as there are only Two main codes for primary care: 99490 or for FQHC or RHC G0511. Learn more about CPT codes and how to bill for chronic care management.
How do chronic care management programs save money?
CCM services are eligible for reimbursements through Medicare when they meet conditions qualify for chronic care management, also outlined in the beginning.
The code G0511 offers a reimbursement of $76.94 per encounter (per month). Here is an example for what that may look like for your clinic:
1 patient = $76.94
250 patients x 1 call per month = $19,235
$19,235 x 12 months
$230,820 in incremental reimbursements
The code 99490 offers a reimbursement of $62.16. Here is an example for what that may look like for your clinic:
1 patient = $62.16
250 patients x 1 call per month = $15,540
$15,540 x 12 months
$186,480 in incremental reimbursements
Want to see how much you can earn with a CCM program? Check out our interactive tool and get results in seconds.
What is chronic care management software?
There are three options when considering CCM software.
Your current EMR
Your clinic already utilizes an EMR system to store patient information. Many of these offer a CCM portal within that EMR.
Pros
Convenience:

Because you already work within your EMR, accessing the CCM portal can be done within the safe software.
Cons
Cost:

Most EMR platforms offer an additional charge to utilize the CCM functionality.
Limitations:

While the convenience may be a draw in, most CCM portals within the EMR are very limited in their capabilities. Often these portals offer only one set of questions, not specific to the patients' conditions or symptomology. The repetitiveness does not offer providers or patients with dynamic and relevant information.
A third-party CCM software
Purchase a CCM software that runs independently of your EMR.
Pros
Robust:

Doing so may offer a sturdier platform than an EMR portal.
Cons
Cost:

Third-party software is often pricey. Inconvenience: A third-party system makes for additional logins and clinician training. These can decrease company buy-in, and clinicians may be less likely to utilize it.
An outsourced CCM company
Hire a trusted third-party that works within your current EMR.
Pros
Convenience: There is no need to log in to an additional system to review patient information or assessment results. Assessments are uploaded into the current EMR in real time, easily visible to providers. Higher-quality data: This option can offer customized, condition- specific clinical pathways as dynamic as the patient's conditions.
Cost: Selecting an outsourced CCM company that does not charge any software fees can save your clinic money while still getting the benefits of a robust platform.
Cons
Trust:

Putting your faith in an outsourced company can seem daunting—especially when it comes to your clients. It is imperative that you do your research and find a company matching your clinics internal values, helping you to create a healthier and better-connected relationship between provider and patient.
How to implement a chronic care management program?
Once you decide that a CCM program will benefit your patients, you face the daunting task of implementing it into your clinic. You could do it yourself in which case there are a few things you should know before you begin.
Or you have the opportunity to outsource your CCM program to a company like H3C. Because what you may already realize is that implementing a CCM program isn't as easy as 1…2…3! Rather it's a Herculean effort that presents looming challenges which could take weeks, months, or even years to accommodate.
How to choose the right chronic care management company?
The idea of handing over your patients to an outsourced company can be daunting. Will they have the same level of respect and care for your patients? Will your patients realize someone outside your clinic is contacting them? Will an outside company try to steal patient information?
And if all those concerns are satisfied, there are so many CCM program partners to choose from. How will you decide? As it turns out there are a few things that a reputable CCM program provider will have:
Successful patient engagement
CCM program enrollment rates of about 50% or more
High retention rates of 80% or more
Up-to-date technology and processes
Benefits of an outsourced chronic care management program
Outsourcing doesn't need to equal complexity. An outsourced CCM program partner has similar goals as you do to better serve your patients. And there are a multitude of benefits to finding the right CCM partner, including no:
Additional staff to hire
Expensive programs or software that you need to learn how to implement yourself
Patient enrollment frustrations that accompany reviewing your list for eligible patients
Challenges of an outsourced chronic care management program
Outsourcing isn't always the right fit. If you choose to implement a CCM program yourself, there are benefits to doing so, including limited risk of:
Potential misrepresentation of your clinic
Disconnected technology
Generic scripts and communication with your patients
Internal chronic care management program
You may decide to go the route of an internal CCM program. As with outsourcing you will discover that there are numerous benefits and challenges associated with your decision. Once you've given each their due, you can decide what route is better for your clinic—in-house or outsourcing?
Benefits of an internal chronic care management program
Keeping your CCM program in-house comes with numerous pluses such as:
Professional representation of your clinic
Your choice of software and technology, ensuring it complements your existing EMR
Personalized scripts and communication with each patient
Challenges of an internal chronic care management program
Naturally, keeping your CCM program in-house also comes equipped with challenges. Some of the more common ones include:
Hiring and training new staff
Deciding what monthly assessments are needed
Researching how CMS compliance is managed
Start-up costs
Understanding how much overhead is added to quarterly clinic expenses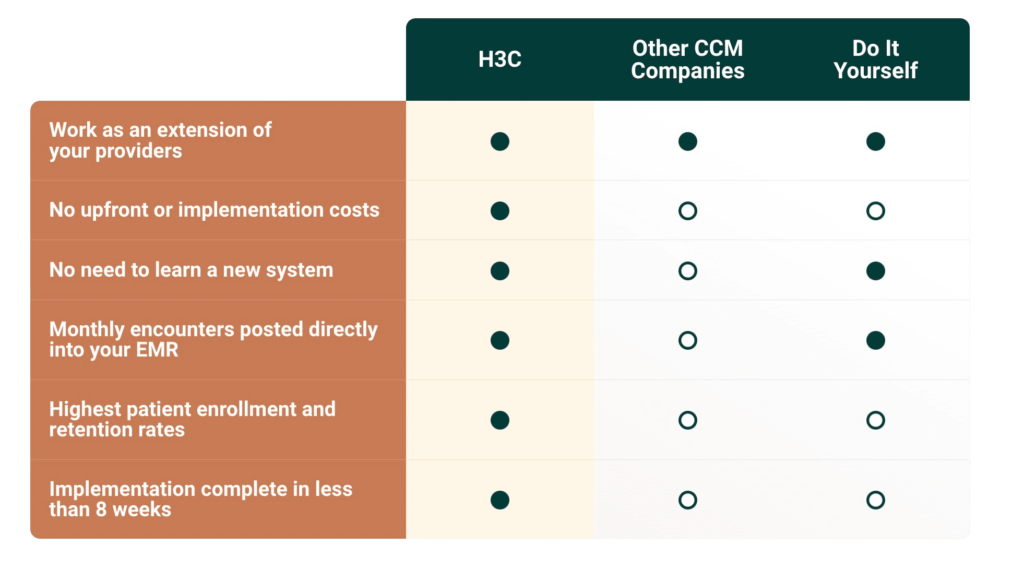 How does H3C help you to implement a chronic care management program?
When you choose H3C as your chronic care management partner, we make it easy to implement a CCM program into your existing practice. Here's how it will work.
First, you'll provide us with a list of your eligible Medicare patients.
Next, you grant us remote access to your EMR.
Finally, you assign an Internal Champion who will serve as a liaison between H3C and your clinic.
From there, we do everything in our power to make your life (and the lives of your patients) better.
First, we'll identify patients who qualify and make the connection.
Next, we'll enroll interested patients.
Then we'll provide monthly phone calls to each enrollee from a dedicated representative who understands their current medical challenges.
Finally, we'll integrate patient assessments from each call directly into your EMR system offering providers a more constructive conversation with their patients during office visits.
What does H3C handle?
At H3C we offer a variety of services designed to make outsourcing your CCM program the easiest decision you will ever make. Our team of experts covers:
Client Onboarding
Confirm patient eligibility and build out cohorts

Schedule and conduct orientation sessions with your staff

Create marketing materials

Build out clinical pathway and care templates

Craft encounter note summary templates

Confirm program update process
Patient Onboarding
Send out welcome letters to patients

Conduct EMR assessment

Coordinate patient introductions

Obtain and document patient consent

Ensure compliance standards are met
Patient Care
Connect with patient caregivers

Complete intake assessment

Conduct monthly patient calls, assessments, and pathways

Review and update patient goals

Carry out intervention plans

Coordinate in-person patient appointments

Provide referral assistance as needed
Documentation and Reporting
Generate and upload care plans to EMR

Mail care plans to patient

Upload post-encounter summary notes

Submit monthly risk level report

Generate productivity reports

Compile monthly billing reports
Curious how we compare to an in-house program? Download our in-house versus outsourced CCM comparison guide.
How we compare to other outsourced programs
It's true, H3C isn't the only company that can help you with your CCM program. But when we choose to work together, know that H3C has a long history of working with top-notch organizations like yours and we have a reputation for delivering consistent, high-quality results for each and every one of them. 
At H3C, not only do we provide our CCM program and technology at no cost to clinics, but we also help generate additional revenue to improve clinics and the care they provide. Come learn why clinics like yours trust us to provide top-level care for their patients. Connect with H3C today.